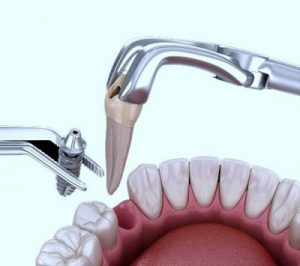 IMMEDIATE IMPLANTS: HAVING MY TOOTH EXTRACTED AND A DENTAL IMPLANT PLACED ON THE SAME DAY
Decades of research have proven implant treatment to be highly successful. When it comes to replacing missing teeth, implants are superior to dentures and bridges. Conventional implants are usually placed two to three months after tooth extraction. It is time-consuming and involves additional surgical procedures. If it is a front tooth that needs replacing, patients will have to use a temporary denture or have a temporary bridge fixed for a longer period, which may be uncomfortable and requires more visits to the dentist. This explains the growing popularity of immediate implant treatment.
What is the process?
Under anaesthesia, the tooth is extracted carefully to minimize damage to the surrounding tissues. The extraction site is prepared to receive an implant right after the tooth is removed. The rest of the procedure is no different from conventional implant treatment.
Is it more painful than having only the extraction done?
Having an implant placed right after extraction does not result in greater pain or discomfort compared to having only the extraction done. The feedback garnered from many patients is that the discomfort is minimal, and they do not even find pain medication necessary.
Is it suitable for me?
Case selection and careful planning is important. The outcome of the treatment is influenced by many factors, such as certain medical conditions, bone density and extraction technique, just to name a few. Nonetheless, conventional and immediate implant treatment have shown comparable success rates in most cases.
Our dental surgeons have been placing implants for years with good predictability. He or she will be able to discuss the risks and benefits of your treatment options specific to your case with you.
25 October 2022, Tooth Stories Team